On April 7, 2021, Paragon Management Associates, Inc. celebrated 35 years of serving dental practices. Currently, Paragon serves over 400 practices in 15 states.
"This is an incredible milestone," said Ken Runkle, President and Founder of Paragon. "When we started the firm 35 years ago, we wanted to help doctors grow their practices. I am amazed we still have some of the same clients we started out with and realize that we've been working with some of the same practices for over 30 years."
"Paragon's legacy is in the long-term success of our doctors. Over the years, we have had the privilege of helping practices grow and watching doctor's families grow and transition into the third stage of their life, into retirement. It really makes you feel good to know that you made the world a better place," said Linda Marek, Paragon's Vice President.
Thirty-five years of building great dental practices has led to great relationships within Paragon also. "At the last Excelleration Meeting, I looked around the room and realized there were seven other Paragon team members I had worked with for at least 15 years. It's been a real blessing to be able to build the company together with them," said Ken Runkle.
Paragon Celebrates 35 Years
Paragon continues to expand through individualized in-office consultations, events, local study clubs, and Paragon's unique network of thriving dentists. This year, Paragon presented Paragon's Watch Party in the spring and will present the Hygiene Academy in the summer and fall, as well as the Front Office Academy. Paragon will present Excelleration Meetings with Ken Runkle, throughout the year, in Maryland, Ohio, Indiana, and Colorado. In addition, Paragon will present the Success Network meetings, which are National Study Clubs for doctors. This year, Paragon will have two National Study Clubs, the first this summer in Longboat Key, Florida and the second National Study Club to follow in the fall. The year will close out with the best two-day dental event of 2021 with the Year End Review held in Columbus, Ohio on December 9-10.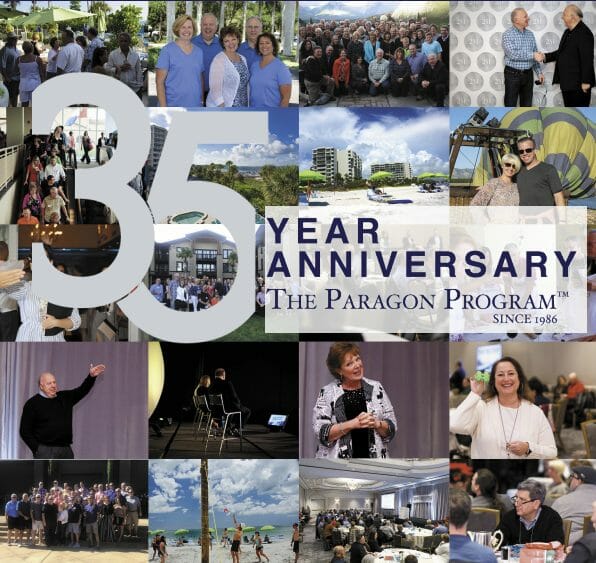 This year Paragon announces its theme as In Omnia Paratus, which is Latin for "to be prepared in everything". COVID-19 has definitely taught preparation within the dental profession. Paragon doctors have made a lot of changes to their practices to thrive. This year, dentists in Paragon are on track for even higher growth.
"Paragon's amazing growth has been keeping us busy. We have built a strong reputation as a value-based management consulting firm with proven results for the practices we serve. We only grow when you grow. We only reach our goals when you reach your goals. Internally, we've added a new database to keep up with our growing base, new Zoom webinars to meet our clients needs, localized meetings due to governing laws, a new website housing our up-to-date information, charts, worksheets, events, and our "Afterhours Theatre". All of this can be found within the client portal of our website. In addition, we have expanded our event calendar for next year, which includes our new events: Young Dentist Conference, 2 Million Dollar Dentist Roundtable, and General Implant Roundtable. As we continue to grow, we want to be able to reach the needs of all our clients."
"As we continue to expand, I want to keep you informed. Many of you have been calling us with colleagues around the country that want to participate in The Paragon Program™. As you know, we are a national firm serving clients throughout the United States. Since we are celebrating our 35th anniversary, I would like to give your colleague a complimentary 2-hour consultation call with an experienced Paragon consultant to discuss some of their top concerns and give them tips to drive them more towards growth," Ken Runkle states. "I can't wait for them to experience the same success and growth as our clients, who have committed to the program."
Want to wish us a Happy Anniversary? email: mary@theparagonprogram.com
Longboat Key National Study Club
Click Here to Check Out All the Details!
Mark Your Calendars